Mezangelle
So having entertained some debatable claims about extremes, we can now turn to the far more interesting middle space...we find works like Mez Breeze's _cross.ova.ing ][4rm.blog.2.log][_, Talan Memmott's Lexia to Perplexia, and my own Under Language, where scriptonic expression fuses with the vocabulary and syntax of computational code. Source: Microsoft Word - Moulthrop - Intimate Mechanics ELO 2016.
"I think poets in particular play a really important role in drawing attention to the way these technologies are evolving...Mez Breeze is maybe the most recognizable Glitch Poetics artist that I mention, in that her way of writing is a composite of code language (so algorithms or a written piece of code) and a poem.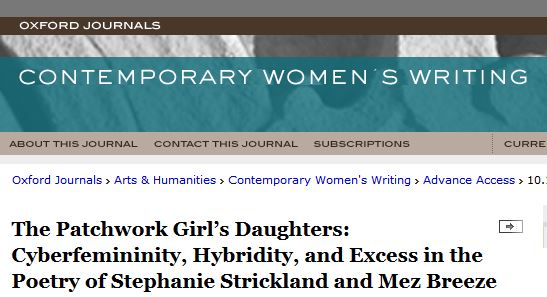 "Using Shelley Jackson's 1995 hypertext work Patchwork Girl as the initial model for a form of cyberfemininity that operates through hybridity and excess, this article examines the legacies of "patchwork" digital femininity in the works of Mez Breeze and Stephanie Strickland. Written in the invented language ‪#mezangelle, Mez Breeze's works posit the feminine as fluid, flexible, always ‪#cyborgian, and always deeply bodily.