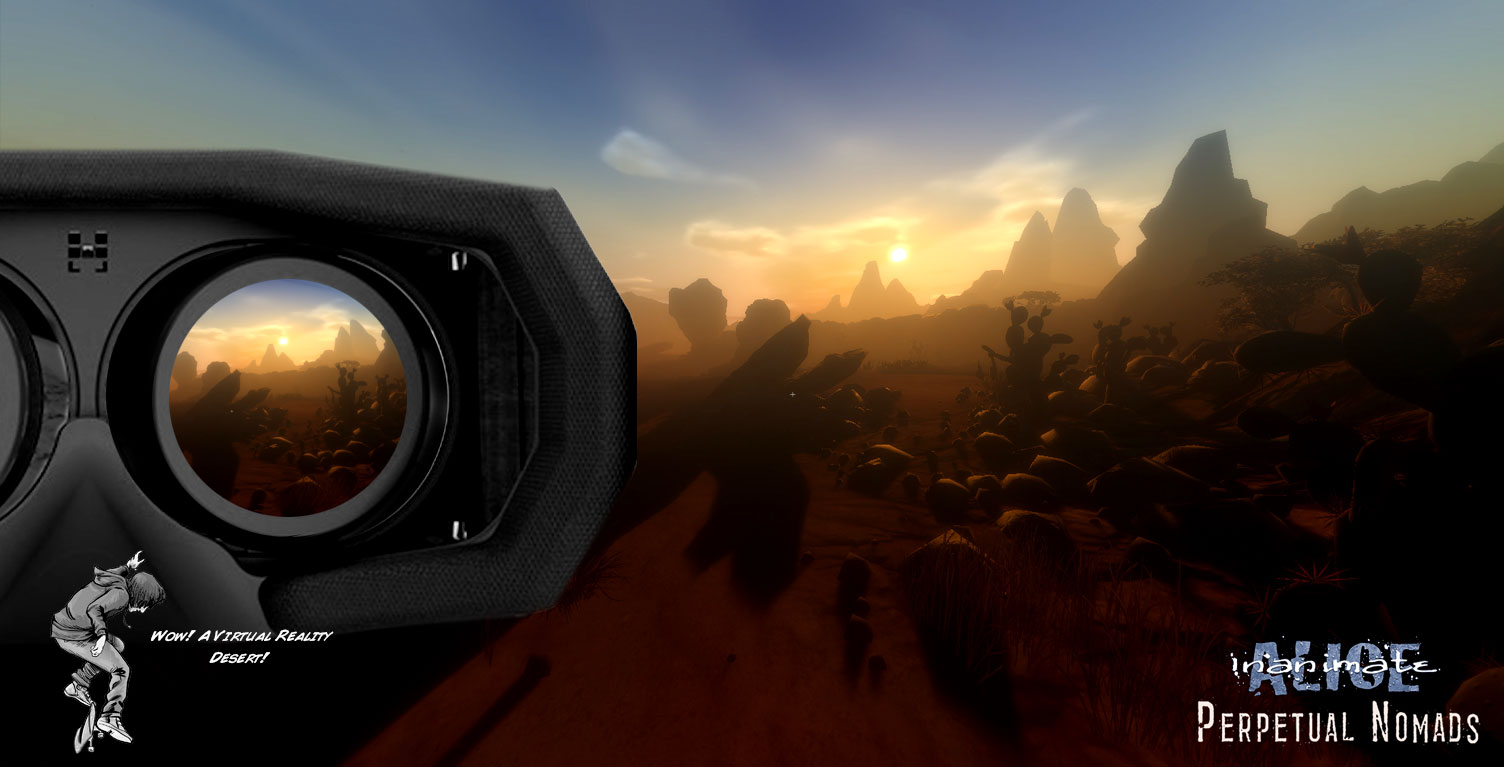 Perpetual Nomads is now available in Early Access Release! This innovative Virtual Reality Experience, coproduced by Mez Breeze Design and BradField Narrative Designs, is the next installment of the award-winning interactive story Inanimate Alice. First established in 2005, Inanimate Alice features the world traveling character Alice in her various adventures. The series is highly regarded in the digital fiction sphere and used in classrooms globally.
Perpetual Nomads follows six progressively complex episodes of Alice's adventures. In Perpetual Nomads, Alice, who is headed to the city to work in game design, unexpectedly finds herself stranded alone in the middle of the desert with a rapidly dying phone battery. So what does Alice do? In an effort to navigate her way through a strange environment dominated by a corporation named "Z3Ron", she downloads the Whispurring Nomads app and connects to chat buddies PLAYA (a self-termed "friendly aussie" who seems to be anything but) and Unicrony (an intrusive Canadian), both of which seem to have their own agendas. What makes this chapter so exciting is it is the first Inanimate Alice story designed to be experienced in Virtual Reality on both the Vive and Rift VR headsets, with the audience experiencing Alice's adventuring in a completely new way.
In 2017, the Perpetual Nomads Beta Release was shortlisted for the Digital Writing Prize in the Queensland Literary Awards, where the Judges praised it as:
"…a wonderful new iteration of the long-running Inanimate Alice series. Mez Breeze brings her own voice to the character of Alice and the integration of sound, image, and animation with text brings the project up to date".
Now in 2018, Fraser Valley Regional Library (FVRL) is proud to partner with the team behind Perpetual Nomads to provide patrons with access and programming related to the ongoing franchise. FVRL will offer audiences the opportunity to experience Perpetual Nomads in VR systems that travel to their twenty-five libraries.
The Early Access Release of Perpetual Nomads includes an exclusive PC and VR Bundle available only during this Early Access phase ending May 2018. Play it now here.